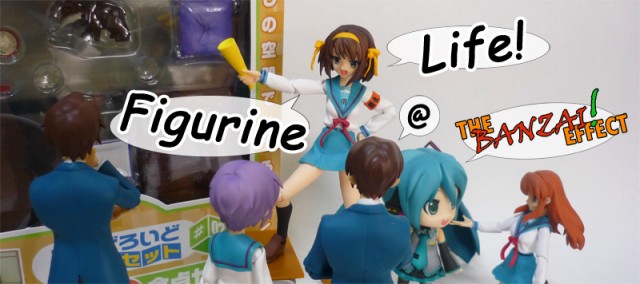 Figurine Life! is a comic series by nutcase23, featuring his various figurines in their everyday mayhem, as an attempt at a long running comic series with an extended storyline as compared to the usual one shot comics.
Updated whenever nutcase23 feels the mood, gets an idea, or isn't buried by work, school or otherwise.
From simple gags to world domination, nutcase23′s figurines have done it all. Check out their adventures today!
Figurine Life!
-The Beginning

Where it all begins, featuring the first few pilot strips as the project began and ending in its first story arc.
Done primarily with a PnS camera.
001-Pucchi-pon
002-Unfulfilled Dreams
003-Change of Seasons
004-Concentration
005-Surefire Sales Tactic
006-The Other Side of the LCD
007-Good Game
008-True Gamer
009-The Root Cause
-Tako Luka World Domination Arc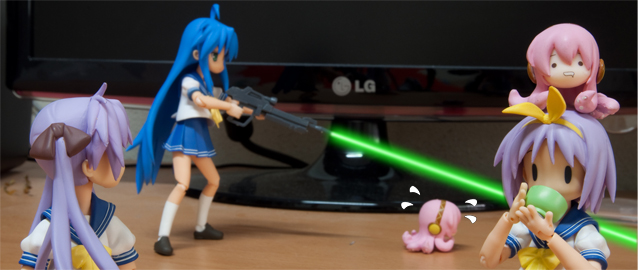 Second major arc featuring Nendo Luka's attempt at taking over the world (or my room) by over breeding tako lukas.
—————————————————–
One shot Comics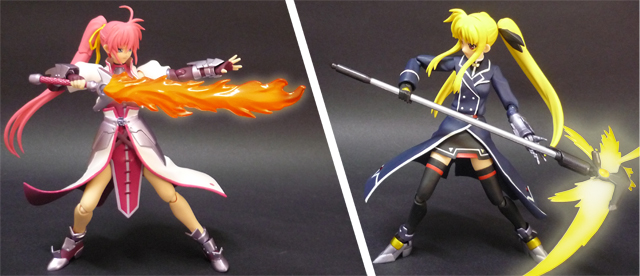 This section consists of comics that were done as specials or as stand alone projects.
Lucky Star Wars
White Day Special – Where are the Flags?
Fate VS Signum – A figma Comic Special
Building a Japanese House (Scroll to the bottom)
Whose Chicken Rice?
This section contains a list of past figurines reviews that I have done as well as figurine theater specials.
Figma Takara Miyuki and the Lucky Star Gang
Christmas Figma Special (Figurine Theater)
Vocaloid Nendoroid Explosion!
Nendoroid Playset A & B – Let's Build a Classroom! (Figurine Theater)
Chinese New Year Figurine Special (Figurine Theater)
Tsukasa Celebrates Valentine's Day (Figurine Theater)
Figma Hayate: The Holy Trinity is Complete
Nendoroid Kaito: Battle Royal (Figurine Theater)
Hiiragi Sisters at NUS – A late Post-Exam photoshoot (Figurine Theater)
Figma Kagami (Cosplay Ver.) – Moe~ Moe~ Kyun!
Nendo Mikku Miku Kagami – Death by Moe… Almost
LS Girls' Day At The Beach (Figurine Theater)
Nendoroid Playset – Japanese Living Set (Figurine Theater)
Figurine fun at GCA! (Figurine Theater)
di:stage Theatre Mega Post (Figurine Theater)
WLNF Lunar New Year Steamboat (Figurine Theater)
Hiiragi Sisters' Cycling Trip (Figurine Theater)
K-ON Girls' Day Out (Figurine Theater)
Nendoroid Nakano Azusa – Nekomimi Mode (Figurine Theater)
Kemonomimi Madness! – Nendo Konata, Kagami and Azusa (Figurine Theater)